Happy Green Bee Giveaway
Entries: 304
Winner: 64
2/24/2010 20:14:28
Sherri sh****rt@gmail.com
I follow your blog
Cherry on Top Boutique Giveaway
Enrtries: 467
Winner: 17
2/26/2010 19:17:32 Kristy M real****@gmail.com
I blogged your contest:
http://cancontests.blogspot.com/2010/02/contests-from-elsewhere-win-body-butter.html .
Thank you!
Wysi Wipe Daily Giveaway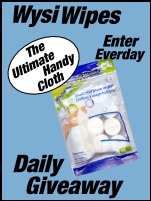 Winner #36
2/13/2010 17:02:52 Pam R mela****@hotmail.com
Follower
Winner #37
2/20/2010 16:06:48
Natasha A cnd***3@gmail.com
I love the wysi wipes SOOO much,
because you can take it any where and every where.
The best place for the wysi wipes in the kids lunch boxs.
Winner #38
3/25/2010 20:03:22
Kara O ka****ane@gmail.com
I love that the wipes are so versatile!
They be a pure water wipe or an antibacterial wipe.
They can be whatever kind of wipe I need at the time.
Congratulations Winners,
Thank you Everyone for Entering
Kara :)