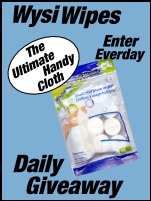 W
I
N
N
E
R
S
!
!
Wysi Wipes #22
2/12/2010 11:33:51
sun*****@gmail.com Saskie S
The 500 pack- I have lots of kids
Wysi Wipes #23
2/12/2010 11:11:53
Loc**mer***@yahoo.com Merrie L
"How innovative! This is a great way to be able to be prepared for life without the bulk and inconvenience of other 'disposable' wipes, or larger cloths.
Upper Canada Soap Giveaway
Entries: 219
Winner: 128
2/28/2010 17:42:20 Lilac sp***@live.ca
"Already subscribed"
Fresh Organics Ready to Glow Giveaway
Entries:
329
Winner
: 181
2/12/2010 21:19:22
Elena elena.******@gmail.com
I would love to get the Velvety Soft Babee Lotion for my son.
Coosh Baby Giveaway
Entries
: 246
Winner:
10
2/6/2010 11:21:08
Anna R perf*****oon@gmail.com
Im a facebook fan #1
Congratulations Winners:)
Thank you everyone for entering
Kara