Entries: 583
Winner: 542
3/30/2010 12:01:26
Scott nen****@aol.com
Follow w/google under Scott lilly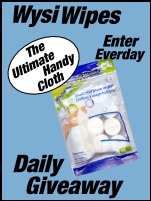 Wysi Wipe Winners!!
Wysi Wipes #42 3/28/2010 22:17:13 Emma ben*****@hotmail.com
I follow Organic girl blog via Email
Wysi Wipes #43 3/30/2010 13:15:44 Robbie C sunny****@live.ca
The Wipes are disposable yet reusable, and can be rinsed many times.
Wysi Wipes #44 3/27/2010 16:24:06 Donna do**@simplydab.com
I follow @evyready on twitter and tweeted http://twitter.com/simplydab/status/11160536713
Wysi Wipes #45 3/31/2010 8:53:48 Elizabeth F ultra compact and resuable
Wysi Wipe #46 2/19/2010 20:00:36 dt.sher*******@nexicom.net Diane S
I loved these when I bought them for my grandchild when she was a baby for travelling.
Then i used them for camping cause there is always water around. Most recently I was in a
serious car accident and was bed ridden and i used them to
wipe up with and sponge bath with. An amazing product.
Wysi Wipe #47 2/14/2010 19:52:29 Nury***@live.ca Nurinia I follow Wysi on twitter #2
Congratulations Winners, I hope Everyone had a Wonderful Weekend.
Kara :)