Finally my kiddos are all in bed, and I can finally get to this huge list of winners. I will be announcing Missiko Tomorrow as I have 1617 entries to go through!! So Stay tuned for that one:)
Pawparrazzi Pet Giveaway
Winner: 287
4/12/2010 13:18:24 Teri H straw******sales@gmail.com Tweeted http://twitter.com/strawberrykidss/status/114352040707
Entries: 431
Winner: 303 2/20/2010 10:14:16 Stephanie M steph****@hotmail.com daily tweet http://twitter.com/stephmd425/statuses/10774002259
Ecoleeko Giveaway
Winner: 176 3/24/2010 23:23:23 Missy seksi****@hotmail.com tweet http://twitter.com/missywpg/status/10750158702
Gloveables Giveaway
Entries: 609
Winner: #1
2/28/2010 Jan lar*****@**.net My favorite is the pink/peachy gloveables set, and the matching Pink Peach Rose Apron
Winner #2
2/28/2010 19:53:20 Marion taylo*****@gmail.com Gloves I love the pink/green dot with bow and the Betty Apron, dot with pink ties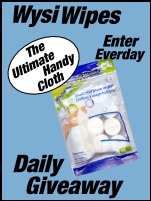 Wysi Wipe Winners!!!!
So far This Giveaway is at 2389 Entries:)
Just in case your curious!
#48 3/26/2010 10:26:43 Anne Z rav***@yahoo.com I havent tried them yet , but im going to look for them, they look handy for the car
#49 3/18/2010 22:06:25 adrian.g*****@live.ca Lisa G Tweeted http:// twitter.com/adriana1954/status/10701277118 daily tweet
#50 3/27/2010 20:18:30 yds****@aol.com Shirley Y Very effective -do a good job easy to carry
#51 4/8/2010 23:45:34 mcj4****@comcast.net Micheal wysi wipes are suitable for all skin types.
#52 2/14/2010 22:20:10 rkl****@gmail.com Kylie L Id choose the ww12 -convientient........
#53 3/29/2010 13:33:08 ag**@hotmail.com David R it is do good to have a case a mess happens.
#54 2/27/2010 18:13:48 jenya****@hotmail.com Jen M I would try the Marth Stewart wipes and I..
#55 4/7/2010 6:15:44 pm**@eastlink.ca John R Because they are biodegratable multi purpose wipes.
#56 2/19/2010 17:36:51 pansy***@shaw.** Grace Small enough to take anywhere and so handy

I will be emailing everyone, Please check your junk folder just in case :) Thank you Everyone for entering .
Kara