You know the feeling when some everyday product lets you down. 'I could have designed this better myself', you think. But how many of us turn our thoughts into actions?
James Dyson does. He is a man who likes to make things work better. With his research team he has developed products that have achieved sales of over $6 billion worldwide.
I have this feeling each and everytime I try and tackle my house cleaning. Is there an easier way of seriously doing this??? With 4 kids , 1 dog, a snake and alot of hussle and bussle going on my house can really take a beating. I have tried many vacuums and througout my marriage of 12 yrs I have only owned the kinds that require bag filters and I honestly gave up and threw it out finally when it died years ago. I figured I would rather sweep until I could afford a different one. Well times up and Its time for mom to get a handle on the floors and to my rescue comes Dyson DC 25 Animal. The sweeping is over in this house..... hey its good exercise but come on now!!!!!
With our Beloved Family Member for whom we love!
to hard wood floors with big grooves
to the unbelievable spots cobwebs find a home
My Family was ohhhh sooo happy to have this opportunity to
Dyson DC25 Animal is a Dyson Ball™ upright for homes with pets!! And it Rides on a ball for greater manoeuvrability
The Dyson Animal DC25 Comes with all the Accessories you need to get
you started!!
What's in the box?
Operations manual
Quick start guide
Warranty information
Product registration card

Plus the following accessories.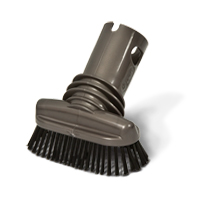 Stiff Bristle Brush-Stiff bristles remove ground-in and stubborn dirt. Quickly attaches to the hose or wand. Not recommended for use on delicate flooring, rugs or carpets.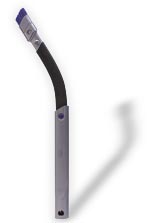 Combination tool
Nozzle converts to a brush tool for dusting.
Quick-draw Telescope Reach™ wand- Flexi Crevice Tool- This works super well for reaching those awkward spots. I love this one as it is really good for curtains and blinds and as you see in the pic above hubby really gets to those tough spots!!!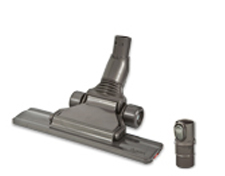 Stair tool
A Dyson-designed tool for removing dust and dirt from stairs and stair carpets. This is super cool to use and really gets out lint.
Flat Out™ floor tool
Articulates for effective pick-up, and is especially handy for cleaning under low furniture and household appliances. Automatically adjusts for hard floors and carpets.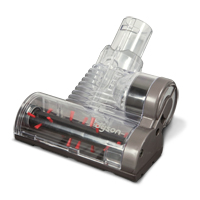 Mini turbine head
Removes pet hair and dirt from confined spaces such as upholstery, stairs and the car. Quickly attaches to the wand.
At Dyson they work towards one idea: that everyday objects can be made to work better. Its an obsession. The results from development testing are used to improve the design of the next generation of Dyson machines.
Every cleaner is subjected to a battery of endurance tests to ensure that its as durable as a Dyson should be. At their test facility in Wiltshire, Dysons are pushed, pulled, dropped, frozen, baked and shaken.
The Dyson digital motor works differently.
In 1978, James Dyson noticed how the air filter in the Ballbarrow spray-finishing room was constantly clogging with powder particles (just like a vacuum cleaner bag clogs with dust). So he designed and built an industrial cyclone tower, which removed the powder particles by exerting centrifugal forces greater than 100,000 times those of gravity. Could the same principle work in a vacuum cleaner? James Dyson set to work. 5 years and 5,127 prototypes later, the world's first bagless vacuum cleaner from Dyson
Controlled by microchip it spins at 98,000 rpm – five-times faster than a Formula 1 car engine. Because of its speed, the digital motor is half the size and half the weight of conventional motors. With no brushes or fixed magnets, it doesn't emit carbon either.
Why is a Dyson Vacuum Cleaner Different?
Root Cyclone Technology-Dyson uses centricular forces to spin dust out of the air and straight into the bin. No Bag, No clogging, No Loss of suction.
Ball Technology is brilliant, upright vacuum cleaners have always moved about on four fixed wheels until now.
The Dyson Digital Motor is smaller, faster, more energy efficient and more powerful than conventional motors.
Air Muscle- Dysons most advanced cleaner head technology. Engineered to pick up more dirt. Gotta love this one!!
Testing- Testing is a lengthy interactive process but on that results in continual improvement.
The Service is wonderful and how can you beat that. I had to call a few days in as I had some questions. Well I could not figure out something and was a bit stumped. This is a very simply made Vacuum but I wanted to make sure I was doing the right thing. So I called up during their hours and all my questions were answered my problem was solved by a nice gentlman from the company. I was happy that he knew right away the problem and answered all my questions. Another wonderful service you received when you buy a dyson.
The total performace is unbelievable. I have all variety of floors in my home from weird floors with valleys to carpets and old hardwoods. The dyson easily glided over all of them and cleaned up everything from pine needles to dog hair. It leaves my whole house smelling fantastic. Dyson uprights are certified asthma friendly according to the Asthma Society of Canada!! The Air expelled from a dyson vacuum cleaner is up to 150 times less bacteria and mold than the air you breath. With lifetime HEPA and washable filters, and no bags to buy I know this is a vacuum so worth bragging about to everyone!!
All Dyson upright and canister vacuums have:
No loss of suction
Root Cyclone™ technology means dyson vacuums don't lose suction power as you clean.
No extra costs
All Dyson upright and canister vacuums are bagless, so there are no costly bags to replace. They also come with washable filters and free shipping.
5 year warranty
Parts and labour are covered for 5 years.
Thank you Dyson for this Amazing Review opportunity and for sponsoring this Giveaway at Organic Girl.
To Purchase a Dyson Simply Visit Dyson HERE
Dyson
is Generoulsy giving One Organic Girl Entrant a Dyson Anima
l DC 25 Just like I reviewed!
~To Enter~
This is Required to Enter:)
Visit
Dyson
and choose another favorite product and tell me what feature you really like? come back here and leave your comment at the link below
ENTER HERE
~Extra Entries~
Tell me something you
learned
about the
Dyson
and why you would love to win a Dyson Animal {1 entries}
Post
the
Dyson Button
for the Duration of the Giveaway on Your Blog {5 entries}
Become a Fan of Dyson on
Facebook
{1 entry}
Follow Organic Girl's Blog {2 entries}
Subscribe to Organic Girl Blog{2 entries}
Grab Organic Girl Blog Button {1 entry}
Follow
Organic Girl
on Twitter and
Tweet this Giveaway {1x day}
Blog this giveaway with a link to this giveaway with a link to here and
This Giveaway is open to US and Canadians
Ends May 18, 2010
{Winners will be chosen using Random Number Generator, Winners will have 48 hrs to confirm your win by email or a new winner will be chosen}
Thank y
ou Dyson for the Amazing Review opportunity and for sponsoring this Giveaway at Organic Girl/Today's Diva