Aromatic Health Giveaway
Entries: 257
Winner: 184
3/9/2010 16:25:00 Anne T nanc******er@gmail.com
tweet http://twitter.com/greeeneyedwhwom/status/10238457268 ty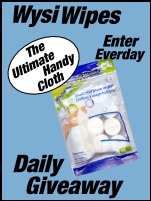 Wysi Wipe Winners
#32
2/15/2010 10:22:13 Veronica T vnj***@hotmail.com
Biodegratable make them environmentally friendly
#33
3/21/2010 20:28:58 l Robert L o****@umd****
Sanitary
#34
3/22/2010 10:07:54 David M dm****@juno.com
Easy to Carry for quick clean ups.
#35
2/12/2010 18:16:13 Caresa H Car****@hotmail.com
i love wysi wipes because they are handy, convenient and safe to use!
i have a 4 month old daughter and wysi wipes sound like the perfect way to wipe the drool,
the milk, the spit ups, the regurges and even for diaper changes. i would use it to also give
her a quick wash face and body..it sounds like it is ideal for everyday living and i would certainly
get good use of it. i like how i can just add water which is very important when handling babies and
they are so compact i can fit them in the car, handbag, diaperbag or even my pocket! i would also use
them for myself to wash my hands especially if out in public or to even cool myself down on a hot day.
its about time someone invented a product such as this!!
Congratulations Winners, I have emailed Everyone:)
Kara